By Xoel Cardenas, Sr. Communications Specialist, Office of the Vice President for Research
The saying goes "The sky's the limit."
But for University of Utah mechanical engineering student Kian Arian Ben-Jacob, the sky is not so much a limit, but the place where research discoveries are made.
Ben-Jacob is the president of the Aerospace Club at the U, as well as a member of the Utah Rocketry Club. A stellar student, Ben-Jacob recently represented the U at the 2023 Spaceport America Cup competition, the world's largest Intercollegiate Rocket Engineering Competition for student rocketry teams. This year, 158 teams from colleges and universities from 24 different countries competed. Students launch solid, liquid, and hybrid rockets to target altitudes of 10,000 and 30,000 feet, according to the competition's website.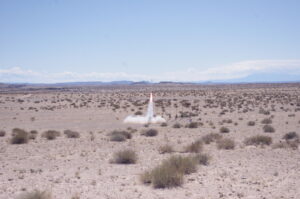 For Ben-Jacob, his passion for space exploration and technology has been with him since he was a child, he said. But it wasn't until he got his pilot's license that he had an urge to pursue studying mechanical engineering and aeronautics.
"My excitement to go into the field grew exponentially after seeing the rockets of SpaceX and hearing about NASA's Artemis missions," he said. "I also believe that space technologies are going to be the next internet and it would be awesome to be a part of it."
Ben-Jacob said studying mechanical engineering and aeronautics has given him confidence in his understanding of physics and math that he originally never believed were good enough to be useful.
"My experience at the U has changed that and taught me that solving challenging problems is very satisfying, and it has motivated me to be as educated as possible," he said. "Hearing about all the advancements in the various STEM fields is inspiring and makes me ambitious for an epic future for humanity. It has also shown me that I can be a good leader by being able to communicate effectively. Throughout this journey, I have found that my ability to communicate is one of the most valuable skills I have developed and am proud of."
"The Lone Ranger"
Ben-Jacob put his knowledge, hard work and lessons learned to the test when he designed and built a rocket for the Spaceport America Cup competition. The actual construction of the rocket launched at the competition began in spring 2022, and the construction and testing itself probably took around at least 100 hours, Ben-Jacob said.
"Along with many design iterations and solutions, it took about a year and a half, and were made to create a rocket that would be able to be passed onto the school for future projects," he said. "The rocket is 6 inches in diameter and 8 and 1/2 feet tall. It ended up like 50 pounds with its payload and it flew to over 11,000 feet according to GPS and about 9,400 feet according to barometric sensors."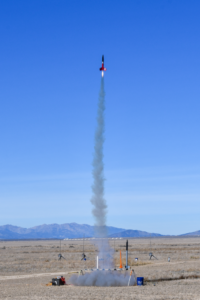 Out of 5,913 total rocketeers participating in the Spaceport America Cup, Ben-Jacob stood out among his peers, as he was awarded the "Lone Ranger" award, which the competitions judges initiated specifically for him. Speaking about the award, he said it means a lot to him and is honored to have his efforts be noticed by the judges and event coordinators.
"It showed that one person can really make a big difference in the success of a mission," he said. "It also has brought me a lot of confidence in my abilities and skills and has motivated me to keep pursuing my goals and aspirations within the field of aerospace."
Ben-Jacob gives credit and thanks to professors like Dr. Jacob Hochhalter, who he said was quick to respond and was fully willing to bring him into his research lab. Because of Dr. Hochhalter's funding help and mentoring, Ben-Jacob said he was able to purchase the necessary components such as motors and flight computers to do test launches, and gather flight data for the smaller rocket he built to prepare to create the school's rocket.
"Without Dr. Hochhalter, we also would not have been able to navigate the bureaucracy of the school's policies for growing the club, and we would not have had the funding to travel to the Spaceport event," he said.
Hopes for the future of aerospace
Ben-Jacob says the field of aerospace is literally boundless, and he's optimistic for a bright future for humanity with these technologies.
"I think the future of space exploration and aerospace engineering will be one of the most influential developments in our near future," he said. I think it is the most critical time for humanity to start planning out what we want for our planet and the future of our species. With the current abilities within technology, the stars are more in our reach than they ever have been before, and I feel like there could not have been a better time to go into the field."
This journey has solidified Ben-Jacob's passion in research, he said. He also believes it is just the first steps in his career and part of a path to ultimately becoming an astronaut.
Ben-Jacob expects the U's Aerospace Club to blossom into a serious and established organization that aims to tackle more challenging problems as a team.
"This is only the first steps of something a lot bigger," he said, "as I hope the (aerospace) club continues to grow into an established organization with many talented and passionate aerospace engineers, but also entrepreneurs and business students."
Ben-Jacob quotes Uncle Ben in "Spider-Man" by stating, "With great power comes great responsibility" when it comes to aerospace engineers and their leaders.
"It will be very important for them to be aware of the mission they are serving and the technologies they are developing," he said. "I am very excited to see how our story of exploring the cosmos unfolds, and am looking forward to hearing about many new discoveries about our universe over the 21st Century."